ORGANIZATION CHART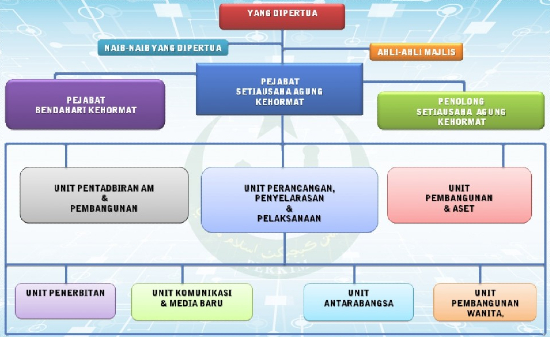 BACKGROUND
1.The Islamic Welfare Organization of Malaysia (PERKIM) was founded by the late YTM Tunku Abdul Rahman Putra Al-Haj and was registered on August 19, 1960. Following his inception, Tunku was appointed advisor until 1971 and was elected President until 1989.
2. State-level PERKIM are known as Division Divisions. There are 13 divisions throughout the country except Sabah. Divisional PERKIM Management is chaired by the Chairman of the Divisional PERKIM appointed at the PERKIM Divisional General Meeting. The National PERKIM Secretariat provides funding for staff education as well as for certain activities at the PERKIM Division level. PERKIM also has a section of women known as Women PERKIM and its position is proportional to PERKIM Divisions.
3.At the division level there are branch entities in each district. These branches are managed by the Branch Chairman who is also elected at the Branch General Meeting. The Branch is responsible for reporting all activities to the Section of the Division to ensure that it complies with the National PERKIM policy.
BADGE AND EMBLEM
The PERKIM badge & emblem is a diagram containing a dome and tower of old green mosque with a five-pointed star above the dome and tower. They are all located within the crescent of the crescent inscribed with the words "Islamic Welfare Organization of Malaysia" and "PERKIM" under it.
SLOGAN WORDS
PERKIM slogan words, "Islam Is Brotherhood" is a pillar that must be kept in mind and practiced where PERKIM should serve as the heart for unifying Muslims, especially members and the local community.