DATAR HOSTEL OF PERKIM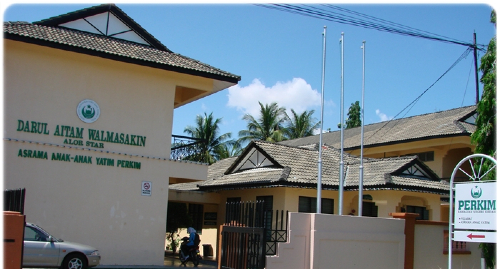 Darul Aitam Wal Masakin Tunku Abdul Rahman Putra Hostel (DATAR)
1. In 1990, the Most Honorable Al-Marhum Tunku Abdul Rahman Putra Al-Haj wrote a special letter to the Permanent Secretary of the State of Kedah at the time, Tan Sri Dato 'Paduka Haji Shafie Abdullah and gave permission to build orphanages and people poor on his land at Lorong Sei Lot No.2370-2390 (1475, Lorong Seri).
2. The Most Al-Marhum His Excellency Tunku laid the foundation stone on March 16, 1990. The building was completed and commenced operations in 1993 and was officially opened by Tun Dr. Mahathir Mohamad on January 23, 1994 when he was Prime Minister.
3. In conjunction with the sacrifice of Al-Marhum the Most Honorable Tunku Abdul Rahman Son of Al-Haj, this orphanage was named Darul Aitam Walmasakin Tunku Abdul Rahman or his short name DATAR.
4. It consists of dormitories, classrooms, offices, prayer rooms, halls and playgrounds. Children in this house are studying in schools around Alor Setar. The DATAR is managed by the Kedah PERKIM.
5. 40 to 50 people can be placed in this house. To date, 147 people have been taken up and educated here. The victims were only from poor families from the age of 9.
6. Thus, 30 orphans have completed their studies at the IPTA / IPTS, 21 have completed their studies in engineering, information technology and management. Those who do not excel in teaching are sent to study in the field of skills.
7. PERKIM also helps poor orphans living with their mothers or with their guardian under the Dormitory Outpatient Assistance Scheme. Orphans still receiving help in 2007 were 14. Two of the overseas orphans receiving PERKIM assistance have graduated from overseas.